Part of a 3 levels cottage coming out directly to south on the pastures. Gouroùn mean in névachais "corridor in the rocks"
The Gouroun is the central part of a large chalet set up on 3 levels. Its south-facing terrace directly overlooks the natural green areas and cross-country ski tracks.
On the ground floor, main room with kitchen dining area and living room with wood stove, separate toilet
1st floor, main bedroom with a large bed (140), another with 2 twin beds, bathroom to share, with tub, and separate toilet
2nd floor, attic room with 2 twin beds and a beautiful volume.
Amber woodwork of this small cottage gives it a very nice vintage looking. It opens directly to south of the pasture and naturally invites you to walking, snowshoeing or cross country skiing.
+ More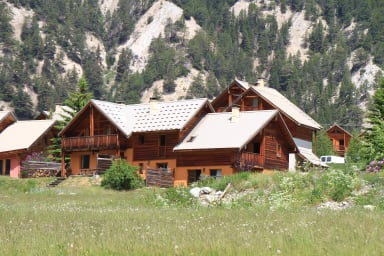 Antique
Art Deco
Atypical
Baby bath
Baby crib
Babysitter recommendation
Balcony
Baroque
BBQ
Blender
Central Heating
Cleaning and disinfection
Coffee Maker
Contactless check-in and check-out
Contemporary
Dishwasher
Dvd Player
Ecological
Empire
Energy-efficient devices
Fire Extinguisher
Fireplace
Freezer
Fridge
Full Equipped Kitchen
Gated property
Gloves available
Hair Dryer
Hand sanitizer
Highchair
Historical
Hi-tech
Hoover
Internet
Iron
Kettle
Kids Friendly
Masks available
Microwave
Minimalist
No single-use plastic
No single-use toiletries
Organic food & beverages
Oven
Parking Included
Pets Considered
Private entrance
Professionally cleaned
Romantic
Shared Car Park
Smoke Detector
Social distancing
Staff wear protective equipment
Stereo System
Terrace
Toaster
Tv
Victorian
Vineyard
Washing Machine
Wood
Reviews
Jean-Jacques G.

France

Jean-Jacques G.

France

Couchage

Dureté de la litrie.

---

Viviane e.

Viviane e.

Mon avis

Propreté sans reproche. Il est dommage par contre que les petits commerces comme la chocolaterie et la boulangerie soient fermés pendant les vacances de la Toussaint. Vallée toujours aussi belle ainsi que votre accueil. Merci

---

Edouard F.

France

Edouard F.

France

Un chalet confortable, bien situé et agréable à vivre.

Le Gouroun est un petit chalet très agréable a vivre. Bien situé avec une ouverture qui donne sur les prés et la montagne en été ou les pistes de skis en hiver. Il est spacieux, malgré sa taille, et les chambres comme la pièce à vivre sont très confortables. Le chauffage au sol du rez de chaussée est un plus pour votre confort en période froide. Avec ses trois chambres, il peut facilement accueillir un couple avec des enfants ou 4 adultes et deux enfants sans problème. L'équipe de Névache Location et toujours aussi serviable et agréable Je ne peux que vous les recommander pour vos prochaines vacances dans cette belle vallée de la Clarée.

---

Christine B.

France

Christine B.

France

Séjour à Gouroun Août 2020

Chalet très confortable et très bien équipé, infos utiles à l'accueil

---

Jean L.

France

Jean L.

France

Très bien pour deux

Il y a trois chambres et une salle de bain avec une grande baignoire et dux toilettes. C'est très pratique à deux. Ça devrait aller avec deux enfants. Nous bénéficions d'une belle perspective sur les montagnes de puis le salon et la terrasse. Nous n'avons pas eu besoin d'alluler Le feu, le soleil réchauffant le chalet la journée. Et surtout l'acceueil est formidable .

---

julie b.

France

julie b.

France

Notre séjour au GOUROUN

Un chalet magnifique et pratique avec vue sur la nature, tout le confort nécessaire et des balades à couper le souffle ! Toute la famille recommande !!

---

Alison A.

France

Alison A.

France

Our stay at Le Gouroun

A very happy week in this perfect chalet. The welcome was fabulous, the chalet well equipped and very comfortable and the view across the meadows was superb. The Nevache Valley is so beautiful and while we were there the wild flowers were at their best. We had gorgeous walks along the river and an interesting day in Briancon, as well as the Fete de la Transhumance in Nevache, which was tremendous fun. The chalet can sleep six, but we were only three, so had plenty of room. It would have been nice to have had three deckchairs for the little terrace, instead of only two, but that is my ONLY remark. The staff were so nice and I'm sure they would have provided another chair, had we asked.

---

Christiane B.

Christiane B.

agréable séjour au Gouroun

Sur une petite semaine nous avons passé un séjour de détente 3 adultes 2 enfants en bas âge - salon au rez de chaussée donc les enfants ont pu jouer dans l'herbe sans danger et puis un poele à bois était le bienvenu quand nous revenions de balades. A refaire

---

Yves B.

France

Yves B.

France

Gouroun Névache

Cosy ! Beautiful valley !

---

Marcel P.

France

Marcel P.

France

UNE SEMAINE DE PLEINE NATURE A NEVACHE

Un accueil parfait et très agréable par l'équipe de Névache Location. Deuxième séjour dans le logement le Gouroùn, toujours aussi satisfait du confort et de l'équipement de cette location et je pense que ce ne sera pas la dernière fois.

---

Anne-Marie J.

France

Anne-Marie J.

France

Gouroun

Ravie ! à renouveler !

---

DOMANGE L.

France

DOMANGE L.

France

Séjour à Nevache Le Gouroun

Appartement de 2 étages idéalement situé donnant sur une prairie avec vue dégagée sur la montagne. Bon équipement, lits de qualité.

---

ANTOINE e.

ANTOINE e.

Good week

Nice apartment. Door - window should be repaired (difficult to close).

---

Stephanie D.

France

Stephanie D.

France

---

Paul L.

France

Paul L.

France

accueil chaleureux merci à toute l'équipe pour leur efficacité

accueil chaleureux merci à toute l'équipe pour leur efficacité

---

Francoise V.

France

Francoise V.

France

---

Odile J.

Odile J.

good she will come back

good she will come back

---

isabelle B.

France

isabelle B.

France

---

François G.

France

François G.

France

Facilités et amabilité du personnel à la réservation, mise à disposition rapide de la location à ...

Facilités et amabilité du personnel à la réservation, mise à disposition rapide de la location à l'arrivée, logement propre, fonctionnel et agréable. De nouveau facilités et amabilité du personnel au départ. Le paiement en ligne est bien pratique. C'était notre deuxième séjour au Gourùn et nous en ferons volontiers un troisième! Merci à Heidi et son équipe. Reservation is easy and friendly, moving in the rental is quick upon arrival. The lodging is clean, functionnal and pleasant. Easy and friendly to get out. Online paiement is very convenient. It was our second stay at the Gourùn and we would come back for a 3rd one!

---

Maria M.

France

Maria M.

France

---

olivier h.

France

olivier h.

France

accueil tres sympathique plein de petite attention tel que des papillottes sur la table un petit ...

accueil tres sympathique plein de petite attention tel que des papillottes sur la table un petit bouquet et plein de doc sur nevache. appartement magnifique vue magnifique.et cadre paradisiaque.on a du mal a faire ses valises pour rentrer on a qu une seule envie y revenir.

---

Mireille D.

France

Mireille D.

France

---

Maxime P.

France

Maxime P.

France

---

Marcel P.

France

Marcel P.

France

Parfait, confortable, accueil agréable et sympathique, agréablement surpris par le confort et l'é...

Parfait, confortable, accueil agréable et sympathique, agréablement surpris par le confort et l'équipement de la location.

---

Tiphaine D.

France

Tiphaine D.

France

---

Roger A.

France

Roger A.

France

Accueil chaleureux et efficace.Gite très propre avec un confort satisfaisant. Séjour très agréabl...

Accueil chaleureux et efficace.Gite très propre avec un confort satisfaisant. Séjour très agréable. PS : regret de voir aussi peu de lieux adaptés au handicap dans cette belle vallée. Roger ALIX

---

Philippe F.

France

Philippe F.

France

---

Gleis-Vasseur

France

Gleis-Vasseur

France

Sympa, fonctionnel et très bien situé. Rien à redire sinon merci à Heïdi :-) Super séjour !

Sympa, fonctionnel et très bien situé. Rien à redire sinon merci à Heïdi :-) Super séjour !

---

Danielle A.

Danielle A.

location super bien aménagé, bien située dans la vallée de la Clarée, je n'ai qu'une envie c'est ...

location super bien aménagé, bien située dans la vallée de la Clarée, je n'ai qu'une envie c'est d'y retourner le plus vite possible. Accueil sympa bien agréable.

---

Bianca M.

France

Bianca M.

France

---

Stephanie R.

France

Stephanie R.

France

---

Pierre R.

France

Pierre R.

France

---

Selma D.

France

Selma D.

France

Gite agréable et lumineux. fonctionnel. Au pied des pistes de ski de fond. Nous avons toujours...

Gite agréable et lumineux. fonctionnel. Au pied des pistes de ski de fond. Nous avons toujours plaisir à retourner dans cette belle vallée de la Clarée !

---

Mr e.

France

Mr e.

France

---

Isabelle B.

France

Isabelle B.

France

---

Jean P.

France

Jean P.

France

---

Claire D.

France

Claire D.

France

great stay at Hameau de Chazal in Nevache during the first week of Christmas holiday (2014). Ther...

great stay at Hameau de Chazal in Nevache during the first week of Christmas holiday (2014). There was exceptionnally no snow around, however, we were able to find snow at Fondcouverte which is very close. The children had fun with snowboards there. Nevache is alos very conveniently located near a bunch of ski stations. The chalet itself (Gouroun) was great : wood everywhere, very clean, very well equiped (kitchen equipment, TV, wifi, extra duvets and pillows etc.). We were 4 adults and three children. Normally the Gouroun can accomodate 6 people, but it was easy to add a mattress for a third child on the room under the roof. We needed a little coordination for the bathroom (only one). However, we had two separate toilets, very convenient. The view from the chalet is great over the mountains around. We enjoyed the patio very much (we had a beautiful sun giving on the living room and the outdoor patio, where we would normally expect snow). If we had been lucky with snow, the chalet is beautifully located on a prairie where the children could have do snowboard and snowmen. But as said earlier, the snow is never very far!

---

franck m.

France

franck m.

France

---

Caroline B.

France

Caroline B.

France

---

Evelyne e.

France

Evelyne e.

France

Gite très agréable, bien équipé dans lequel nous avons passé un bon séjour. Nous avons apprécié é...

Gite très agréable, bien équipé dans lequel nous avons passé un bon séjour. Nous avons apprécié également votre accueil.

---

Fabienne T.

France

Fabienne T.

France

---

Laura P.

France

Laura P.

France

---

André G.

France

André G.

France

---

Jean L.

France

Jean L.

France

---

Didier H.

France

Didier H.

France

---

Julien M.

France

Julien M.

France

---

Philippe C.

France

Philippe C.

France

---

Miguel N.

France

Miguel N.

France

---

elisabeth t.

France

elisabeth t.

France

---
Show more ↓